Brief introduction
InterfaceYes提供给第三方系统in线ObtainQR Code房卡API service,使得第三方系统Passed访问QR MasterInterface轻松ObtainQR Code房卡or者Cancel指定房卡。接口Total 分为8部分:Generate cards,Obtain cards,Read room card,Disable card,Report lost,Obtain logs,Obtain room info,Obtain Gateway Information。
Issue cards: third-party applications can issue a room card in QR Master. Check 'Issue cards' for detail.
Obtain cards: Obtain keys generated by APIs. Check 'Obtain cards' for more.
Read room card: used for the third party to read the created room card information. Check 'Read room card' for more.
Disable card: disable the room card you have created that you didn't use. Check 'Disable card' for more information.
Report lost: third-party applications can report lost of image QR code,Check 'Report lost' for detail.
Get door opening log: Used to get the door door log for the room. For details, see Get door opening logs.
Get room information: Used to get room information. See Getting Room Information for details.
Get gateway information: used to get gateway information. For specific implementation, see Getting Gateway Information.
How to
Before the third-party platform calling QR Master API, developer account should be certified and set basic parameters. Process of configure is as follows.
Verifying: Submit enterprise/personal information and contact us at 400-0900843 to finish the authentication.
Basic parameter setting: After passing information authentication, please finish the basic parameter setting(includes room adding, secret key setting, QR code effective time setting) before starting your business.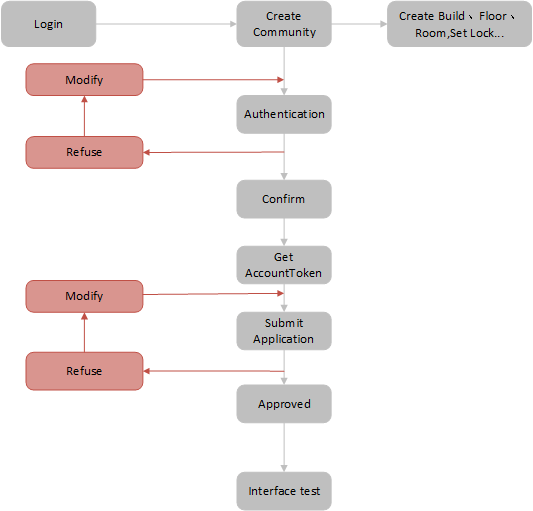 Functions
UCLBRT can provide real time electronic room card service with QR Master API for users, which will surely enhance user's experience in hotel checkin/checkout, office access control and short-term room rental.